"I was devastated when my knee started bothering me right before the Hy-Vee Triathlon. I walked into Hahn Wellness with a limp. Renee worked on me for a long time and it hurt! That night was painful...but the next day, I was walking without a limp and even believing I could actually run the "run portion" of the race! I did run and completed the triathlon attaining my original goal! I know I would not feel this good without the massages. Thanks Renee!"
~ Mary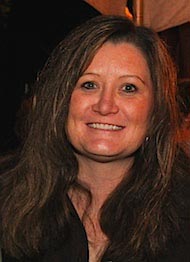 about hahn wellness
Massage Therapy Clinic in West Des Moines
Hahn Wellness clients receive the latest massage therapy techniques to help lead more relaxed and healthy lives.
Renee Hahn, Licensed Massage Therapist (LMT), owner of Hahn Wellness in West Des Moines, is a graduate of Body Wisdom Massage School, Urbandale, IA and received a B.S. in Public Relations at Northwest Missouri State University (NWMSU), Maryville, MO. She is licensed by the State of Iowa, and a member of the Associated Bodywork and Massage Professionals (ABMP). Well over a decade of experience serving customers in West Des Moines.
Renee customizes each massage therapy session to accommodate the specific needs of her clients, resulting in a therapeutic and rejuvenating experience. Her style integrates Swedish Massage, Deep Tissue Massage, Trigger Point, Neuromuscular, Myofascial Release and Clinical Sports Massage into each session. She is also certified in Pre-Natal Massage.
Whether you need a prenatal massage, have a sports injury or simply want to relax, Hahn Wellness has several years of experience matching individuals with custom-tailored massage treatments. Take a step toward a healthier and more comfortable life by making an appointment today.
Schedule Your
Appointment Today!